Tachi Players won a total of $3,168,285.00** in Jackpots so far this year!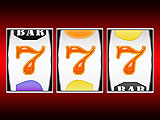 What are you waiting for? Come get yours!
Tachi Palace Casino Resort guests have won over 3 million dollars in jackpot payouts since the beginning of 2012!
In June Donald L. of Bakersfield won $9,000, Judy S. of Hanford won $9,000 and Jairo M. of Corcoran won $10,000. One lucky winner won over $55,000, in one day! You could be next!
These guest won on some of your favorite machines, like Game King, 10X Pay, Chip City. "This is Awesome!" says Efren Rodriguez Premiere Club Manager, "I can't wait to see how our new games do". Come in and see our new machines, Texas Tea, Ghost Busters, Grease, Breakfast at Tiffany's and Sex in the City II.
Come on down to Tachi Palace Casino Resort in Lemoore and you could be the next big winner. July 9th through August 29, 2012 try for your share of $100,000 in cash in our "Cash Cow" giveaway, once a week 3 lucky winners get their chance in the Cash Cow Cube to win up to $10,000 in CASH!