MAJOR CASINO RENOVATIONS NEAR COMPLETION AT TACHI PALACE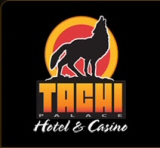 LEMOORE, CA – In recent months, Tachi Palace has made renovating our facilities a primary goal and a commitment to our valued guests. Some of the most significant upgrades have taken place in the High Limit and non-smoking rooms in our casino where completely new and modern décor will debut on July 31. A new filtration system is also now in place which not only provides clean, healthy air for our guests but additionally the refreshing scent of the tropics as an added bonus.
These upgrades are part of Tachi's ongoing commitment to providing the highest quality experience for our guests. Throughout the year, we have been unveiling new projects that continue improve the many opportunities for entertainment, gaming, and relaxation that Tachi has to offer. Visit us today to see what's new and experience for yourself why Tachi is the premiere destination for fun in the Central Valley!