Events You Didn't Know You Could Hold at a Casino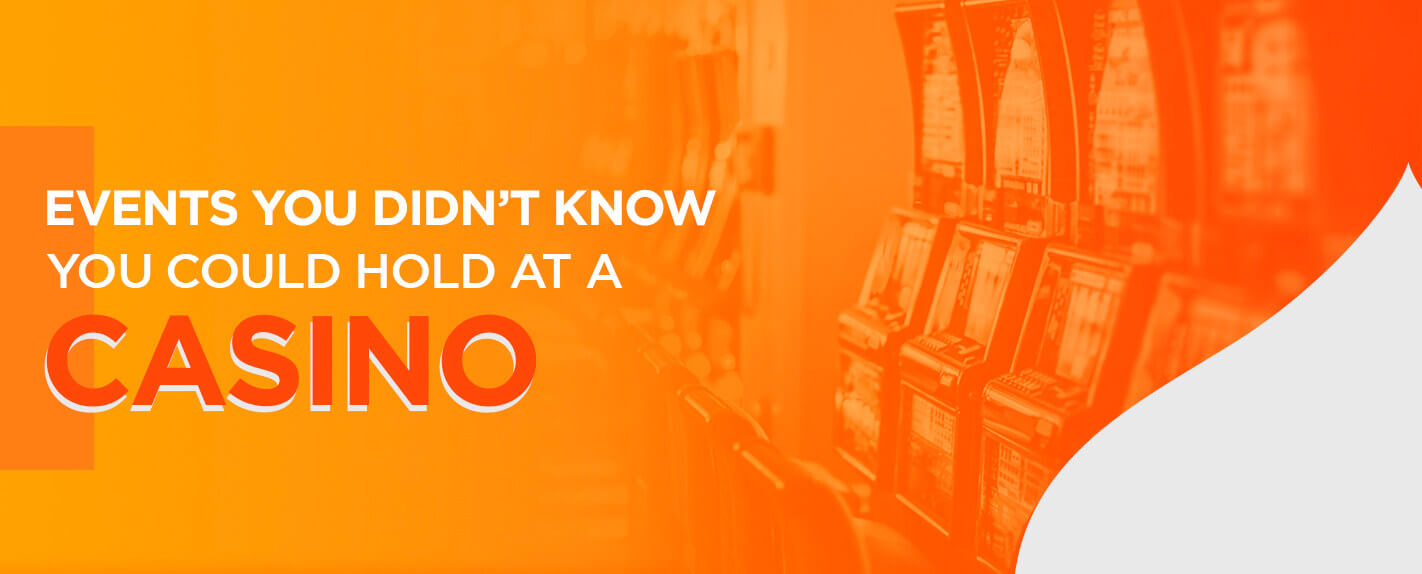 Are you searching for a unique, unforgettable venue to host an upcoming event? Consider planning your private event or work function at a casino. Casinos offer a wonderful location to host a wide variety of activities. From intimate gatherings to functions attended by hundreds, a typical casino can handle big and small events plus everything in between.
If you schedule an event at a casino with an accompanying hotel, your guests can participate in your function and enjoy many amenities during their downtimes, such as a pool or spa. Of course, they'll enjoy round-the-clock action in the property's casino as well.
When you choose an event venue such as Tachi Palace Casino Resort as the host site for a private or professional function, you won't even have to hire a party planner. The talented, experienced staff can coordinate everything for you. You can enjoy a huge number of events at a casino — and your guests will talk about the great time they had for years to come.
Head to a Casino for a Gender Reveal Party
One function that's grown increasingly popular in recent years is the gender reveal party, when you and your guests learn the sex of your baby together. If you think you are limited to having your party at home, think again. With the popularity of gender reveal parties on the rise, you want to come up with a truly amazing way to celebrate. A casino is a wonderful choice to host a gender reveal party.
A casino includes flexible event space, and it also boasts plenty of amenities your adult guests can enjoy before and after they learn the gender of your baby. At Tachi Palace, these amenities include a spa, pool, courtyard and live entertainment in our dedicated venue and on our casino floor. Your guests can participate in table games and slot machines all day and all night as well.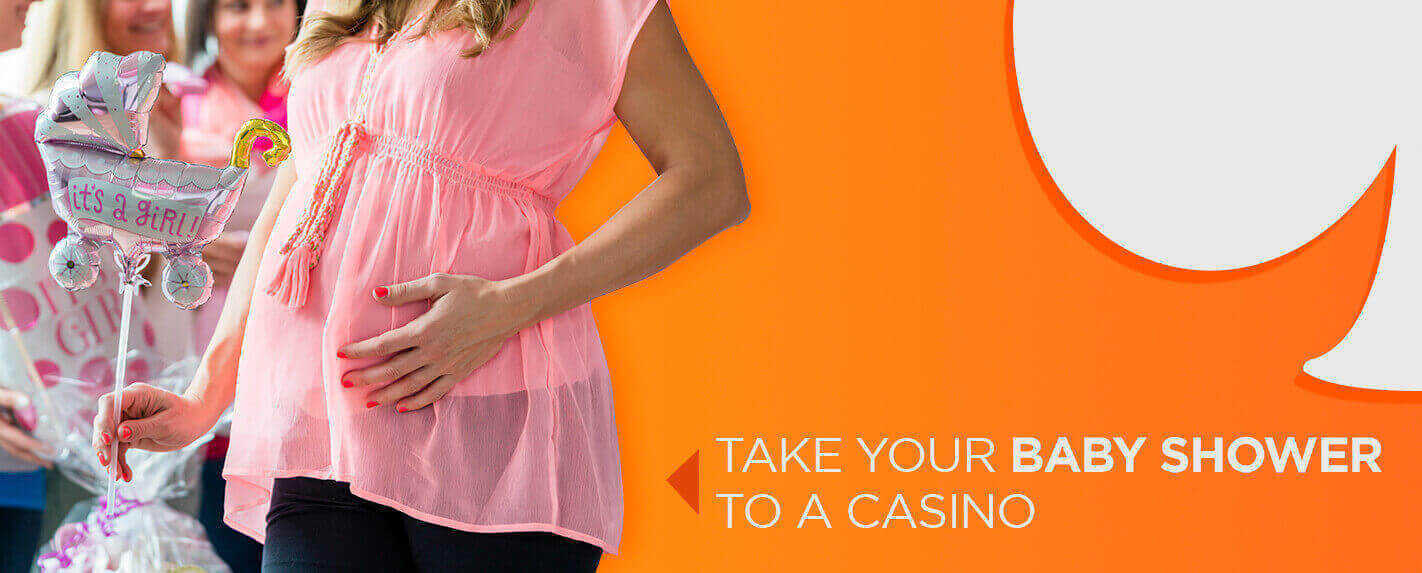 Take Your Baby Shower to a Casino
Just like a casino is a great location for a gender reveal party, it's also a fantastic destination for a baby shower. More and more, baby shower planners embrace creativity and focus more on everyone involved having a ton of fun. Of course, a baby shower still serves a purpose, which is to prepare expectant parents for the arrival of their new addition.
In general, it's wise to plan your baby shower at least four to six weeks before the guest of honor's due date. By doing so, you'll minimize the odds she goes into labor before your event. Scheduling well in advance of the due date also ensures your guest of honor will be physically comfortable enough to walk the floor and participate in the casino gambling. (Is the lucky couple adopting their new child or children? Then you want to give them a similarly early party in case something changes with the adoption date.)
Today, baby showers aren't limited to moms and the occasional dad. Now, people plan baby showers for expectant grandparents as well. Whether you have a shower for a parent or grandparent, you can't go wrong by hosting your function at a casino like Tachi Palace. It offers a wealth of possibilities.
For example, trying to think of a gift no one else will buy for the soon-to-be parents or grandparents? Book them time in our spa or buy them tickets to one of our shows.
Throw an Engagement Party at a Casino
If you want an engagement party that's memorable for all the right reasons, consider hosting your event at a casino. Don't just plan a one-off afternoon, however. Make your engagement party the talk of the town by booking a block of rooms in our four-star hotel for a long weekend of fun with your soon-to-be-spouse and all your family members and friends.
Looking for ways to spice up the fun during your engagement party? Consider playing a version of "The Newlywed Game" called "The Nearlywed Game:"
Compose a list of questions you can ask your guests to see how familiar they are with you, your significant other and your relationship. 
Have other people compete against each other and keep track of who answers the most questions correctly.
Give a prize to the person with the most right answers at the end of what's sure to be a hilarious competition that will keep everyone laughing from beginning to end. A gift certificate to the casino spa or a stack of chips is a great reward for whoever takes the crown in your personalized "Nearlywed Game."
Can I Have a Wedding and Reception at a Casino?
Yes, you can! Most casinos include function spaces perfect for a wedding and wedding reception. A casino environment provides a fantastic backdrop for a wedding and the ensuing reception. Many casinos have beautiful grounds for pictures and a variety of spaces that make it simple to transition from one phase of your big day to the next. A lot of casinos employ in-house caterers, which makes it a breeze to create a menu that will satisfy all your guests.
When you host a wedding at a casino, you rent a beautiful space where your wedding and reception will take place adjacent to the casino. You and your guests can then enjoy the amenities on the casino's campus. At Tachi Palace, you can find a pool, a spa and an action-packed casino that stays lively 24/7.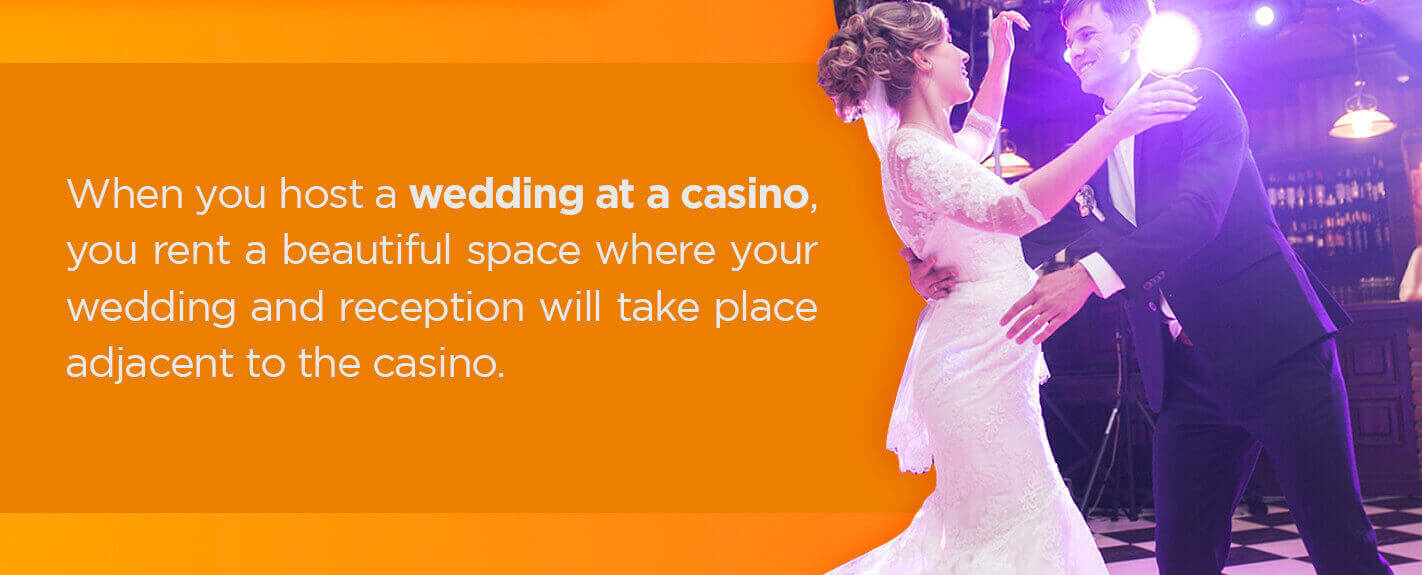 Whether you live near the Central San Joaquin Valley or you're located on the East Coast, you can make your special day a destination wedding everyone will enjoy by booking rooms for your guests in the four-star accommodations at Tachi Palace. By doing so, you'll transform your wedding into a vacation that will make your wedding even more memorable while giving everyone the chance to unwind and explore.
How much does it cost to rent a casino for your ceremony and reception? The price of hosting a wedding at a casino will depend on various things, such as:
The function space you choose
The menu you want for the reception 
The number of guests 
To get a quote for your wedding, contact the event staff at Tachi Palace Casino Resort.
Celebrate Rites of Passage at a Casino
A casino is a great host site for a rite of passage soiree. Are you in charge of a college graduation party for a niece or nephew? Do you have a colleague getting ready to retire at work? Whatever event you plan in honor of a rite of passage, you have many options when you host your function at a casino, including an array of menu choices. Do you want seasonal fare, a regional menu or a buffet that includes all sorts of different foods? At Tachi Palace, you can choose between our pre-set menus or a custom menu created just for your function.
Your options don't end with the menu. When Tachi Palace Casino Resort hosts your event, you can choose between indoor and outdoor spaces. Hold your party poolside, in a courtyard or in any one of our flexible indoor areas. Whether your function will involve a handful of friends and family members or a group consisting of hundreds of attendees, you can hit the casino and have a lot of laughs as you play bingo, poker and more.
Can I Have a Birthday Party at a Casino?
As long as you are of age, you can hold a fantastic birthday party at a casino. Having a birthday bash at a casino is a fun-filled way to mark the passage of another year with the people who are the closest to you.
If you want to throw a surprise birthday party for someone, you can take the surprise factor up a notch by scheduling the event in a casino. What would be more thrilling than surprising your buddy with a 21st birthday at a casino? Reserve rooms for your party's attendees, plan a meal with accompanying bar service that includes the birthday boy's or girl's favorite spirits, hit the casino floor and let the party continue all night long.
Throw a Sports-Themed Function at a Casino
If you want to host a casino party that has a sports theme, a casino offers an ideal space. Your event could center around the Super Bowl, the World Series, the Stanley Cup playoffs, a Grand Slam event or a championship soccer match. Casinos have entertainment spaces where you can watch the game in an exciting atmosphere.
Whether your group will include a few dedicated fans or a large number of sports enthusiasts, Tachi Palace has many different on-site dining options that will enable everyone to enjoy the big game. Our menus at each site include an excellent selection of food and drink. Once the game is over, regardless of your team's outcome, you can celebrate the end of a successful event by enjoying a nightcap or playing casino games in our action-packed casino with your guests.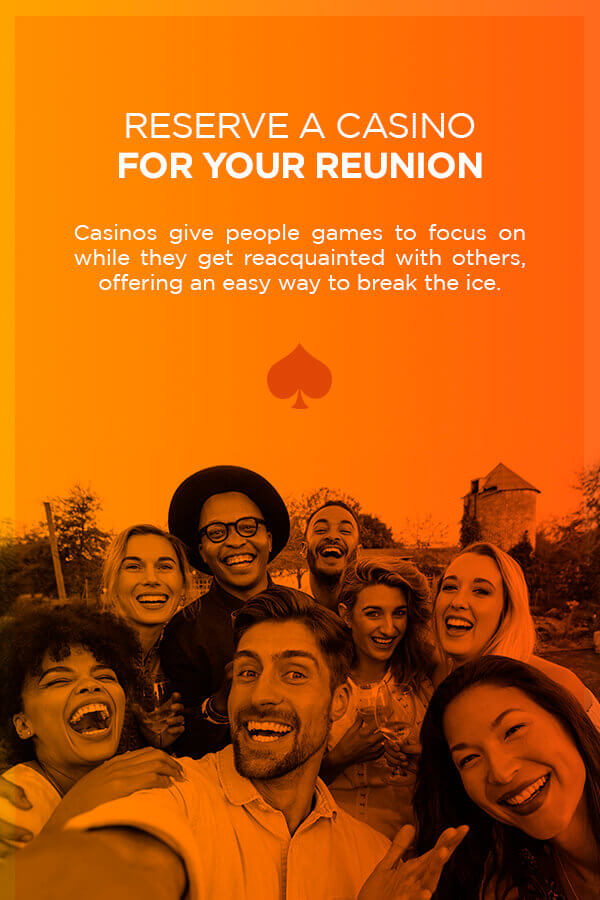 Reserve a Casino for Your Reunion
Reunions may bring together family, alumni, camp friends and more. Few moments in life match the pure excitement of reconnecting with these people at a reunion. Some reunions are raucous events that will leave your stomach cramped from laughing so hard. Others are joyous functions that center on quietly catching up with loved ones. You can hold any type of reunion at a casino. Casinos give people games to focus on while they get reacquainted with others, offering an easy way to break the ice.
What could be better than bringing together people you care about in a place where they have so many options? They can play table games, participate in a hand of blackjack or attend the group events you have planned.
Enjoy Scavenger Hunts and Murder Mystery Parties at a Casino
Even grown-ups enjoy participating in scavenger hunts and murder mystery challenges. These events make a great addition to corporate events aimed at team building. Your employees can work together as they look throughout the casino for clues to the scavenger hunt. Similarly, your company's representatives can team up to solve a murder mystery as they scour the casino's campus for incriminating evidence that will identify the (pretend) killer.
We encourage you to make a scavenger hunt or a murder mystery part of your event, particularly if you host a multi-day function. Activities like these will bring your guests together for heartfelt laughs and intrigue while adding a fun layer of competition to your event.
Offer Product Demonstrations at a Casino
Do you have a new product you want to show off to prospective investors or vendors you hope will sell it? The professionalism and originality of a host site influence how investors and vendors perceive your product. Make your presentation memorable by choosing to hold it at a casino.
If you want to wow your invited guests, Tachi Palace Casino Resort is the ideal environment to do just that. We'll help you pick the function space that will enable you to show off your product in the best light. Our in-house catering staff will put together a menu that will satisfy the most discerning diners. We can assemble an agenda that will allow your guests to make the most of our on-campus amenities as well.
Can I Hold a Business Conference at a Casino?
Because they can accommodate small and large groups, casinos make great destinations for business conferences. Many casinos supply breakfast, lunch and dinner menus for conferences. You can also arrange for snacks to be served at various times during your conference.
People planning business conferences away from their headquarters often come to Tachi Palace. We offer flexible catering menus and table or buffet service. Our property has an assortment of spaces to choose from, including one large enough to accommodate more than 300 attendees with ease.
Host a Work Event at a Casino
Hosting a work event at a casino is an effective way to raise attendance as close to 100 percent as possible. Attendees can enjoy welcome amenities like a spa without leaving the casino grounds. A casino makes it simple to break up a day of business meetings with some downtime because you can find so much to do on campus, such as catching a show or playing a few hands of poker.
Casinos Make Terrific Holiday Party Venues
There is no better place to celebrate a holiday than at a casino. Casinos have fun built into their very structure, from the lights and sounds emitted by the slot machines to the action at the craps table, the excitement of every spin of the roulette wheel and so much more. Entertainment is around each corner when you host a holiday party at a casino.
Tips for Renting a Casino for Your Function
No matter why you want to rent casino space, here are a few things to keep in mind as you prepare for your function:
Make sure the casino has the capacity to handle all your guests. 
Discuss any special catering options you may need, such as dishes for guests with dietary restrictions.
Request a walk-through of the event area beforehand. 
Ask about extras you might want for your event, such as additional lighting or microphones.
See how much space there is between tables and tend to other small details.
Explain what type of event you want to hold and see what additional amenities are available beyond the casino floor.
Book a Function at Tachi Palace Casino Resort
The list of events you can have at a casino goes on and on. Whether you want to plan a lavish event or a function for just a few friends, you will appreciate the options available at Tachi Palace Casino Resort. Our friendly staff can help you plan a private or work event your invitees will be excited to attend. In fact, you and your guests will have so much fun, you might make hosting a function at our location an annual event.
We can discuss the cost of renting out our casino with you and find exceptional options that meet your budget when you request a quote. Let the function staff at Tachi Palace help you put together an event in line with your tastes and goals. From picking the appropriate space to making menu selections to welcoming your guests on the day of your event and a whole lot more, we assist you with everything so you can sit back and enjoy your function alongside your guests. Contact Tachi Palace Casino Resort to schedule an event at our location today.