Championship Bouts at Tachi Palace Casino Resort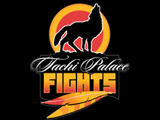 Friday, September 7th will be "Validation" for Tachi Palace Fights 14
Lemoore CA. – Friday, September 7th it will be "Validation" for Tachi Palace Fights 14. Title appropriately named by the TPF Facebook fan page promotion winner. This card will feature two Championship bouts. Fresno's own Casey Olson and Portland OR's Ian Loveland battle it out for the Bantamweight Championship. Co-Main event also a championship bout will face off Georgi Karakhanyan of Riverside, CA against Micah Miller of Atlanta GA, for the Featherweight Championship.
Fight Card also includes;
Lemoore's Poppies Martinez vs. Porterville's Jason Drake
Oakdale's Brad McDonald vs. Dos Palos's Art Arciniega
Sacramento's Andre Fili vs. Irvine's Chris Saunders
Oakdale's Rolando Velasco vs. Rancho Cucamonga's Brandon Bender
Fresno's George Interiano vs. Tulare's Steve Ramirez
Lemoore's Sergio Quinones vs. Lemoore's Anthony Avila
Oakdale's Angel Deanda vs. Sacramento's Drew Montgomery
Las Vegas' David Bollea vs. Lemoore's Zeth Martin
Tickets start at $35 and are on sell now. $5 off ticket purchases that are made in advance is available until August 30. Get your tickets now and see the excitement live at Tachi Palace Casino Resort. Sponsored by Ground and Pound, Fairtex, and SherDog in association with Gladiator Challenge. Fight Card subject to change.
For up to date TPF MMA action and ticket info visit the Entertainment page, TPF Fan page on Facebook, or call 1-866-4PALACE.