August 2016 TACHI PALACE AND SANTA ROSA RANCHERIA TACHI YOKUT TRIBE MAKE DONATIONS TO AID LOCAL FIRE RELIEF EFFORTS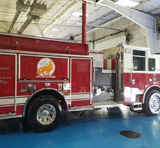 LEMOORE, CA – Tachi Palace and the Santa Rosa Rancheria Tachi Yokut Tribe have made it a priority to assist the fire relief efforts in our area through both a monetary donation and the purchase of a brand new fire engine for Kings County. The goal of these two donations is to assist those in need in the local area and to help keep the community safe as fire and drought continue to threaten the region.
On August 26th, Tachi Palace General Manager Willie Barrios will present a check in the amount of $5,000 to the Central Valley Red Cross to assist those affected by recent fires, including the Coalinga Mineral Fire, Cedar Fire, and Chimney Fire. Thousands of local residents have been evacuated while firefighters work to contain each blaze. Every dollar of this donation will go toward helping those in need of assistance..
Tachi Palace General Manager Willie Barrios states, "We want to help those who have been affected by the fires in our outlying communities. Our fire fighters are working day and night to get these contained, and Tachi Palace supports and appreciates all they do. We hope this donation will help those in need."
In addition to this donation, the Santa Rosa Rancheria Tachi Yokut Tribe recently made a tremendous contribution to local fire and rescue community with the purchase of a new Pierce Pump Fire Engine for Kings County. At a price of $586,000, this is the second fire truck the tribe has generously purchased for the county. The Santa Rosa Rancheria Tachi Yokut Tribe is extraordinarily happy to continue supporting the local community, especially during this time of drought and the rampant influx of fires statewide.
For individuals who would like offer assistance in the relief efforts, Tachi Palace urges you to visit https://www.redcross.org/local/california/central-california/local-chapters/central-valley to learn about the many different ways to help those in need.
The Tachi Palace Casino Resort is owned and operated by Tachi-Yokut Tribe. Tachi Palace is located in Lemoore, CA, on the Santa Rosa Rancheria. Tachi offers the finest gaming action with slots, bingo, and various table games. They also have three dining options and host national entertainment. The hotel features 255 luxurious rooms and suites. Bookings for weddings, special occasions and business functions are also available. www.tachipalace.com for up to date information on all our events. Follow us on Twitter and like us on Facebook.