TACHI SUPPORTS THREE CAUSES AT NOVEMBER COMMUNITY BREAKFAST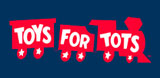 LEMOORE, CA – Tachi Palace Casino Resort held its monthly community breakfast on Friday, November 22. The charity selected to benefit from this month's event was Toys for Tots. An impressive 320 members of the community turned out to support this wonderful organization, and a total of $1,535 was raised at the door. With the holidays approaching and so many children in the Central Valley in need, Tachi Palace was delighted to support such an exceptional cause. Ssgt. Juan Gajardo the Toys for Tots representative was in attendance to accept the donation. The primary goal of Toys for Tots is to deliver, through a new toy at Christmas, a message of hope to less fortunate youngsters.
This month's breakfast also raised funds for Philippine disaster relief following Typhoon Haiyan. Shirts with the phrase "Help. Heal. Home." were sold during the breakfast, and all proceeds will be donated to the Katbalaoganon Foundation which supports relief efforts in the hardest hit villages. A total of $445 was raised on the sale of these shirts, and they will continue to be on sale a Lino's Gift Shop in the Casino of the Moon. The shirts were designed by Tachi associate Dwayne Jackson who spoke at Friday's breakfast.
Additional highlights from the event included a choral performance from students at Central Union Elementary in Lemoore. Tachi also made a $1,000 donation to the Lemoore High School NJROTC. Next month's breakfast will benefit Coats for Kids which is another superb organization with a mission to support those in need during the holiday season.
The Tachi Palace community breakfast is a monthly event which features a full breakfast buffet, informative community news and business networking, as well as raffle prizes and the opportunity to mingle with old friends and make new ones. A $5 contribution is requested at the door which is donated to the organization chosen for the given month.
The management and associates at Tachi Palace Casino Resort would like to thank our guests without whose support we would not have made it for the last thirty years. We hope to continue to be your destination for the next thirty years and beyond!
The Tachi Palace Casino Resort is owned and operated by Tachi-Yokut Tribe. Tachi Palace is located in Lemoore, CA, on the Santa Rosa Rancheria. Tachi offers the finest gaming action with slots, bingo, and various table games. They also have three dining options and host national entertainment. The hotel features 255 luxurious rooms and suites. Bookings for weddings, special occasions and business functions are also available. www.tachipalace.com for up to date information on all our events. Follow us on Twitter and like us on Facebook.