TACHI PALACE THINKS PINK IN SUPPORT OF BREAST CANCER AWARENESS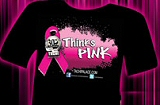 LEMOORE, CA – Tachi Palace Casino Resort has been thinking pink in recent months as part of an ongoing effort to support breast cancer awareness. The October community breakfast held last Friday marked the culmination of these efforts when Tachi Palace General Manager, Willie Barrios, was pleased to present a check to Links for Life in the amount of $17,978!
The campaign to raise these funds was a collaborative effort of the management and staff at Tachi Palace. They sold "Tachi Thinks Pink" t-shirts at a number of events over the last several months including Tachi community breakfasts and the Breast Cancer Awareness "Paint the Town Pink" Night sponsored by the Hanford Farmer's Market. The t-shirts were also sold at Lino's Gift Shop in Tachi's Casino of the Moon. Tachi associates purchased t-shirts for themselves and have worn them every Friday to promote breast cancer awareness. A total of $7,658 was raised on the sale of "Tachi Thinks Pink" shirts!
An additional $2,940 was raised at Friday's community breakfast when nearly 300 members of the community turned out to support this vital cause! The Tachi-Yokut tribe also contributed a generous direct donation of $7,380. The combined total of the t-shirt sales, community breakfast proceeds, and tribal donation allowed Tachi Palace to present a significant donation to Links for Life that will surely make a difference in the lives of many who are afflicted with this difficult disease.
Links for Life is a breast cancer support organization that focuses on the positive. Their mission includes providing support to persons and families who are affected by breast cancer, challenging every woman to be aware of her breast health, and educating the public on this issue. Tachi Palace Casino Resort is honored to have the opportunity to support this wonderful organization.
The Tachi Palace Casino Resort is owned and operated by Tachi-Yokut Tribe. Tachi Palace is located in Lemoore, CA, on the Santa Rosa Rancheria. Tachi offers the finest gaming action with slots, bingo, and various table games. They also have three dining options and host national entertainment. The hotel features 255 luxurious rooms and suites. Bookings for weddings, special occasions and business functions are also available. www.tachipalace.com for up to date information on all our events. Follow us on Twitter and like us on Facebook.