Tachi Palace Presents Huge Check To Relay For Life!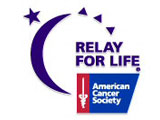 LEMOORE, CA – Tachi's monthly community breakfast was held on Friday, April 26 with all of the proceeds going to Lemoore's Relay for Life. Over 350 members of the community came out to help support this very important cause in the local community.
A combined total of $3,790 was raised at the breakfast which included guest contributions and matching funds from Tachi Palace. The money raised at this month's breakfast was just one part of Tachi's efforts to support Relay for Life though. Tachi Palace has been a part of Lemoore Relay for Life since the beginning in 2004. It was actually a Tachi Palace employee who organized and began the first Lemoore Relay for Life effort! Team Tachi has been the top local fundraising team since 2008 and is proud to continue to working hard to raise money year after year. This year the Tachi Palace associates along with the Santa Rosa Rancheria associates have been working since January holding bake sales, selling Indian tacos, holding department raffles, and conducting many other fundraising efforts.
As a result of this month's community breakfast and the efforts of the Tachi Palace and Santa Rosa Rancheria associates, Tachi's General Manager Willie Barrios was able to present a check to Julie O'Kelly of Lemoore Relay for Life in the amount of $70,000! Lemoore's Relay for Life event was held the following day, and with Tachi's contribution, a grand total of nearly $200,000 was raised for the fight against cancer! The management and associates of Tachi Palace and Santa Rosa Rancheria are honored to have been such an integral part of the local Relay for Life fundraising efforts again this year.
The Tachi Palace community breakfast is a monthly event which features a full breakfast buffet, informative community news and business networking, as well as raffle prizes and the opportunity to mingle with old friends and make new ones. A $5 contribution is requested at the door which is donated to the organization chosen for the given month.
If you are interested in attending the breakfast, it is held the last Friday of every month*. To have your organization considered for selection as a beneficiary, please submit a request on the organization's letterhead. Send it to Tracey LauLetta at traceyl@tachipalace.com or fax it to 559-924-7526. You can also mail it to Tracey, care of the Tachi Palace Casino Resort at 17225 Jersey Ave, Lemoore CA 93245. Donation requests can be sent to Kristi Vaughn at kvaughn@tachipalace.com .