TACHI PALACE MAKES SIGNIFICANT CONTRIBUTION TO RELAY FOR LIFE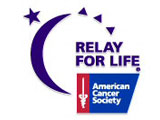 LEMOORE, CA – Tachi Palace has once again continued its annual commitment to Relay for Life by raising over $80,000 for this year's local effort! Tachi employees started fundraising in February and recently culminated their efforts at a Tachi community breakfast on Friday, April 25.
Employees held raffles, organized bake sales, and even auctioned off the general manager's and assistant general manager's parking spaces. "Team Tachi" raised an impressive $36,000 as a result of their efforts! Their fundraising wrapped up last week with a monthly community breakfast which raised another $5,722. Tachi Palace was pleased to match that total for a total contribution of $11,444 from the breakfast.
The Santa Rosa Rancheria employees also got involved in the effort to support this important cause and raised $17,000 with bake sales and raffles of their own. The Santa Rosa Rancheria Tribal Council contributed an additional $16,000, as well! The combined total of the tremendous efforts by both the Tachi Palace and Santa Rosa Rancheria employees came to $80,444 for Relay for Life this year! This total even exceeded last year's already impressive contribution of $70,000.
Tachi Palace has been a part of Lemoore Relay for Life since the beginning in 2004. In fact, it was a Tachi Palace employee who organized and began the first Lemoore Relay for Life effort. "Team Tachi"  is proud to have been the top local fundraising team since 2008. The management and associates of Tachi Palace and Santa Rosa Rancheria are honored to be part of the local Relay for Life fundraising efforts again this year and look forward to continuing their involvement in the future.
The Tachi Palace Casino Resort is owned and operated by Tachi-Yokut Tribe. Tachi Palace is located in Lemoore, CA, on the Santa Rosa Rancheria. Tachi offers the finest gaming action with slots, bingo, and various table games. They also have three dining options and host national entertainment. The hotel features 255 luxurious rooms and suites. Bookings for weddings, special occasions and business functions are also available. www.tachipalace.com for up to date information on all our events. Follow us on Twitter and like us on Facebook.