TACHI PALACE CELEBRATES 30 YEARS IN THE CENTRAL VALLEY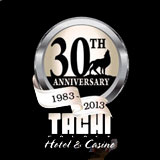 LEMOORE, CA – On November 4th, Tachi Palace Casino Resort celebrated thirty years in California's Central Valley! This momentous occasion was marked by an anniversary dinner two days earlier with local tribes, vendors, VIPs, and Tachi Palace associates all in attendance.
What started as a small bingo hall in 1983 has grown into an entertainment destination and the Valley's premier hotel and casino. Tachi Palace started with just 70 employees in that small building and has developed into one of Kings County's largest employers with over 1,400 associates today.
Tachi has also been proud to have the opportunity to give back to the community over the last thirty years. The community breakfast which raises funds for local charities and non-profits have been going on for approximately twenty-five of those years, and since just 2007 Tachi has given away over $354,000 to deserving local organizations! It was also Tachi's absolute honor to donate a ladder truck to the Kings County Fire Department.
Tachi Palace is also proud to have become a leader in entertainment and fun. We've hosted everything from local bands to big names such as Ringo Star, Chicago, Heart, Brad Paisley, Blake Shelton, Aaron Lewis, and many more. The hotel offers 255 rooms, as well as a spa, pool, gift shops, bars, and award-winning restaurants. The casino includes 2,000 slot machines and 27 table games to entertain guests. Tachi recently gave away over $130,000 in cash and Tachi Cash in an anniversary slot tournament. The 1st place winner, Rena M., received $30,000 in cash, much to her surprise and enthusiasm! It's hard to believe all of this grew out of that humble bingo hall just thirty years ago!
Tachi General Manager Willie Barrios recently said, "We have come a long way since 1983, and I see great things to come for the future of the Tachi Yokut Tribe and Casino. I envision expanding with the purchase of land for a gas station, driving range, and mini outlet center, as well as other investments to help sustain the tribe."
The management and associates at Tachi Palace Casino Resort would like to thank our guests without whose support we would not have made it for the last thirty years. We hope to continue to be your destination for the next thirty years and beyond!
The Tachi Palace Casino Resort is owned and operated by Tachi-Yokut Tribe. Tachi Palace is located in Lemoore, CA, on the Santa Rosa Rancheria. Tachi offers the finest gaming action with slots, bingo, and various table games. They also have three dining options and host national entertainment. The hotel features 255 luxurious rooms and suites. Bookings for weddings, special occasions and business functions are also available. www.tachipalace.com for up to date information on all our events. Follow us on Twitter and like us on Facebook.