Tachi Employees Raise Big Money for Lemoore Relay for Life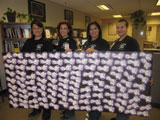 Tachi Palace associates kicked off fundraising efforts for Relay for Life on Valentine's Day with an Associate Bake Sale.
LEMOORE, CA – Tachi Palace associates kicked off fundraising efforts for Relay for Life on Valentine's Day with an Associate Bake Sale. To date, Team Tachi Associates raised over $15,000 this year for the annual event benefiting the American Cancer Society. The monthly community breakfast on April 26th is anticipated to bring in another $5,000 with the help of members of the community.
Tachi Palace has been a part of Lemoore Relay for Life since the beginning in 2004. In fact, it was a Tachi Palace employee who organized and began the first Lemoore Relay for Life event. Team Tachi has been the top local business fundraising team since 2008 because of a small group of slot associates who have kept the fundraising efforts going all these years. Together they raise an average of $10,000-$15,000 per year!
Last year, under the lead of team captain Charlene Cardoza-Ochoa, fundraising efforts were doubled coming in at $35,000. This was possible in large part due to an effort made by every department at Tachi to create their own baskets of donated items which were used for opportunity drawings as part of the fundraising effort. It was also the first year the Santa Rosa Rancheria developed a team and contributed to the overall total.
"It's amazing what our associates are doing! Although Tachi Palace donates to a variety of organizations, raising money for the American Cancer Society is something the associates take pride and ownership in. Associates are baking, washing cars, making bracelets, selling footprints, selling Team Tachi t-shirts; doing anything they can, including locking up their bosses in jail all for the fight against cancer. There's just this special vibe in our casino during our three months of fundraising," stated Team Captain Charlene Cardoza-Ochoa.
"Associates of Tachi Palace have all been affected by cancer in some way or another, including the recent loss of the Tribe's Spiritual Leader and retired Chief, Clarence 'Kaya' Atwell. Associates of the Tachi Palace 'TEAM TACHI' come together reflecting on those we have lost over the years and those who are currently fighting this deadly disease," said Cardoza-Ochoa.
Associates of Tachi Palace and the community will gather for the annual Relay for Life for twenty-four hours on April 27th at Lemoore High School beginning at 9a.m., to honor survivors, remember those lost, and to raise awareness in fighting this disease.