September 2017 TACHI PALACE COMMUNITY BREAKFAST BENEFITS POVERELLO HOUSE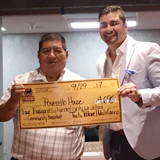 Tulare County Museum Also Receives $5,000 Donation
LEMOORE, CA – (October 2, 2017) – Tachi Palace Casino Resort recently hosted its monthly community breakfast and presented two checks for $5,000 each to Poverello House, a non-profit organization that assists with healthcare, meals, shelter, and social services for those in need, as well as to the Tulare County Museum which recently experienced vandalism.
A total of $2,268 was raised at the door of the breakfast, and Tachi Palace Casino Resort and the Santa Rosa Rancheria Tribe matched and rounded the total amount to $5,000. Tachi Palace general manager Willie Barrios presented the check to Poverello House CEO Cruz Avila.
"Thank you for this generous donation. The funds will go towards many different resources and will help provide meals, and shelter, including assisting Naomi's House, a shelter for homeless women 18 years and older," said Avila.
Barrios presented a second $5,000 check to the Tulare County Museum that was a target of recent vandalism. According to Amy King, Tulare County Museum Curator who accepted the check, the funds will assist them in restoring and replacing damaged items.
More than 420 people attended the fundraising breakfast including County Supervisor Joe Neves from the Kings County Board of Supervisors.
"We thank everyone who supported our community breakfast today and helped raise funds for Poverello House. It's truly a pleasure to be able to support this most worthy organization," said Barrios. "We are also proud to be able to assist the Tulare County Museum. The museum is an important part of Visalia and the surrounding community and we look forward to it being restored."
The next community breakfast will be held Friday, October 27, and will benefit Links for Life in Hanford. The Tachi Place community breakfast is a monthly event that features a breakfast buffet, informative community news and business networking, as well as raffle prizes. A $5 contribution is requested at the door which benefits the featured organization. For more information, visit tachipalace.com.
About Poverello House
Poverello House was founded in the early 1970s by "Papa" Mike McGarvin, who started helping the homeless and hungry by distributing peanut butter sandwiches to homeless individuals. Today, Poverello House offers access to social services including: overnight shelter for men and women, men's residential rehab programs, health & dental care, showers, laundry, and clothing distribution.
About Tulare County Museum
The Tulare County Museum was established in 1948 and houses the history of Tulare County. There are several galleries displaying a wide range of artifacts such as Native American baskets, guns and saddles, pioneer clothing/items, military uniforms, a model train of the Visalia Electric Railroad. There also is a pioneer village with residences and school houses from the late 1800s. The newest
addition is the History of Tulare County Farm Labor & Agriculture Museum, housing a rotating cultural display that highlights the diverse cultures that have contributed to agriculture in Tulare County.
The Tachi Palace Casino Resort is owned and operated by Tachi-Yokut Tribe. Tachi Palace is located in Lemoore, CA, on the Santa Rosa Rancheria. Tachi offers the finest gaming action with slots, bingo, and various table games. They also have three dining options and host national entertainment. The hotel features 255 luxurious rooms and suites. Bookings for weddings, special occasions and business functions are also available. www.tachipalace.com for up to date information on all our events. Follow us on Twitter and like us on Facebook.