October 2018 MORE THAN $6,000 RAISED FOR GOLDEN STATE FAMILY SERVICE AT TACHI PALACE COMMUNITY BREAKFAST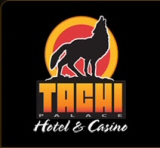 LEMOORE, CA – (October 2018) – Tachi Palace Hotel and Casino recently presented Golden State Family Service with a check for $6,018 with funds raised at its monthly community breakfast. The non-profit is dedicated to helping children who have been removed from their homes and experiencing related emotional and psychological difficulties.
Approximately 580 people attended the fundraising breakfast including representatives from Golden State Family Service, the Kings County Links for Life team, and military personnel. A total of $3,009 was raised at the door and Tachi Palace Hotel & Casino and the Santa Rosa Rancheria Tribe matched the amount bringing the grand total of the donation to $6,018. The check was presented to Crystal Chavel-Fullner, Program Director of Golden State Family Service.
"The money raised today will go towards our 'Children's Fund' which covers extracurricular activities, graduation expenses, emancipation, our Christmas event and so much more," said Chavez-Fullner.
Golden State Family Services assists children by providing therapeutic, healing, foster home environments for children and adolescents; Preparing resource parents through training and education; Continued assistance throughout the foster care experience with supportive counseling, case management services, and continued guidance; Furnishing group and individual counseling based on each child's needs; and teaching Independent Living Skills for making a successful transition to adulthood. For more information about Golden State Family Services, visit goldenstatefamily.org.
Tachi Palace is proud to be celebrating its 35th anniversary of giving back to the community. The next community breakfast will be held on Friday, October 26 at 8:30 a.m., and will benefit Links for Life. The monthly breakfasts feature a buffet, informative community news and business networking, as well as raffle prizes. Attendees are encouraged to make a minimum donation of five dollars, which is matched by Tachi Palace Hotel and Casino, and benefit a featured organization. For more information, visit tachipalace.com.
Golden State Family Services
Golden State Family Services (GSFS) initially opened as a 501(c)(3) Foster Family Agency in Redding, CA, in 1996. The agency expanded opening its first office in the Central Valley in Visalia, CA, on April 1, 1997. Throughout the years Golden State Family Services has established themselves as a reliable agency dedicated to providing quality services to children in need. Golden State Family Services has foster and adoptive homes throughout the Central Valley, servicing multiple counties within the state of California with offices located in Fresno and Tulare. Services include; Full-Service Adoption, Fost-Adopt Services, Case Management, Outreach Support Program, Independent Living Program, Youth Career Readiness Program, Intensive Services Foster Care, Specialty Service Lines, Contract Bed Placement, and youth groups. Golden State Family Services is accredited by CARF International.
ABOUT TACHI PALACE HOTEL & CASINO
The Tachi Palace Hotel & Casino is owned and operated by Tachi-Yokut Tribe. Tachi Palace is located in Lemoore, CA, on the Santa Rosa Rancheria. Tachi Palace offers the finest gaming action with slots, bingo, various table games, and a poker room. They have five dining options and host national entertainment. The hotel features 255 luxurious rooms and suites. Bookings for weddings, special occasions and business functions are available. www.tachipalace.com