October 2017 WORLD RENOWNED MUSICIAN DON FELDER AT TACHI PALACE CASINO RESORT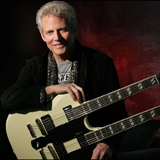 Former Lead Guitarist of the Eagles Performs on October 19
LEMOORE, CA – (October 6, 2017) – Legendary musician Don Felder will be performing live at Tachi Palace Casino Resort on Thursday, October 19, starting at 7:30 pm. Felder was one of the five members and former lead guitarist of the rock group the Eagles for 27 years.
Credited with adding a rock and roll edge to their country sound, Felder wrote the music for the Eagles' biggest hit, the multi Grammy award winning song "Hotel California". With 14 Grammy nominations and four wins, his signature guitar work has become legendary on songs like "Hotel California", "Life In The Fast Lane", "One Of These Nights", "New Kid In Town", and more. Felder and the Eagles album, The Eagles' Their Greatest Hits 1971- 1975, has reached over 26 million copies, becoming the best-selling album of the 20th century.
In the years the band was apart, Felder wrote music for films and television including songs in Sluggers Wife by Neil Simon, Fast Times At Ridgemont High, Heavy Metal, Secret Admirer, Nice Dreams, and Galaxy High. Having mastered instruments like keyboards, mandolin, pedal steel, and banjo, Felder has performed and recorded with musicians that span the musical spectrum, from The Bee Gees, Bob Seger, Joe Walsh, Michael Jackson, Alice Cooper, Kenny Loggins, David Crosby & Graham Nash, David Foster, Boz Scaggs, Tom Petty, Warren Zevon, Steven Stills, Joni Mitchell, Stevie Nicks, Don Henley, Vince Gill, Stevie Wonder to Elton John, Paul Simon, Diana Ross and Barbra Streisand. He also hosted a television show for children called FTV, and continues his work with kids through various charities around the world.
A member of the Rock and Roll Hall of Fame since 1998, Felder also became a New York Times bestselling author with his autobiography "Heaven and Hell" about his life with the Eagles. He most recently completed the "United We Rock" tour this summer with STYX and REO Speedwagon.
Ticket prices are $25, $35, or $55 each. Tickets are available at www.tachipalace.com, or at the Hotel Gift Shop. Doors open at 6 p.m. with the show starting at 7:30 p.m.
Upcoming Shows
November 2 – Tachi Palace Fights 33
November 16 – 98 Degrees at Christmas
December 14 – Wayne Brady
The Tachi Palace Casino Resort is owned and operated by Tachi-Yokut Tribe. Tachi Palace is located in Lemoore, CA, on the Santa Rosa Rancheria. Tachi offers the finest gaming action with slots, bingo, and various table games. They also have three dining options and host national entertainment. The hotel features 255 luxurious rooms and suites. Bookings for weddings, special occasions and business functions are also available. www.tachipalace.com for up to date information on all our events. Follow us on Twitter and like us on Facebook.