March 2016 TACHI PALACE MARCH COMMUNITY BREAKFAST BENEFITS DOWN SYNDROME ASSOCIATION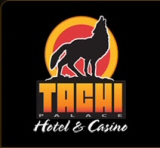 LEMOORE, CA – Tachi Palace Casino Resort hosted its monthly community breakfast on Friday, March 26 and benefited the Down Syndrome Association of Central California. Over 250 community members came out to enjoy a delicious breakfast buffet and support this wonderful local organization. A total of $1,412.25 was raised at the door which Tachi Palace was pleased to match for a grand total of $2,824.50. Assistant General Manager Bill Davis then happily rounded that total up to $3,000. Director Jennifer Whiting of the Down Syndrome Association was in attendance and was pleased to accept the check on behalf of the organization.
The Down Syndrome Association of Central California was founded by five families in the Central Valley in 1999. The mission of the organization is to enhance the quality of life of all people whose lives are touched by Down Syndrome. Their programs promote greater awareness of the developmental, educational, and social potential of people with Down Syndrome and serve six counties within the Central Valley.
The next community breakfast will be held Friday, April 29th. This monthly event features a full breakfast buffet, informative community news and business networking, as well as raffle prizes and the opportunity to mingle with old friends and make new ones. A $5 contribution is requested at the door which is donated to the organization chosen for that month.
The Tachi Palace Casino Resort is owned and operated by Tachi-Yokut Tribe. Tachi Palace is located in Lemoore, CA, on the Santa Rosa Rancheria. Tachi offers the finest gaming action with slots, bingo, and various table games. They also have three dining options and host national entertainment. The hotel features 255 luxurious rooms and suites. Bookings for weddings, special occasions and business functions are also available. www.tachipalace.com for up to date information on all our events. Follow us on Twitter and like us on Facebook.