Kings Community Action Organization (KCAO) Wins Big with Tachi!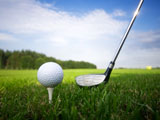 Tachi Palace Golf Tournament raises $25,813.61 for Kings Community Action Organization's Hunger Prevention Program
September is the month Tachi Palace Hotel & Casino holds its charity golf tournament. Tachi picks an organization from requests that they receive throughout the year. "We had our charity golf tournament on the 17th of September, the beneficiary was Kings Community Action Organization's Hunger Prevention Program" said Willie Barrios, General Manager of Tachi Palace Hotel & Casino.
Tachi has been holding their golf tournaments for 10 years. The tournaments have benefited organizations such as Children's Hospital Central California, Habitat for Humanity and Ronald McDonald House to name a few. 96 golfers came out to Kings Country Club in Hanford to enjoy food, fun and prizes and of course, golf. Tachi raised $25,813.61 with the golf tournament.
Tachi ends the month with the Community Breakfast donations going to the same organization as the golf tournament. The Bingo Hall at Tachi Palace Hotel & Casino was overflowing with guests as people came to support Kings Community Action Organization. With the overwhelming turnout for the Community Breakfast, it raised $3,355.00. Tachi matches the donations from the breakfast for a grand total of $32,523.61. "That's money that is just drastically needed for our food programs," said KCAO Executive Director Jeff Garner.
The event features a full breakfast buffet, informative community news and business networking, as well as raffle prizes and the opportunity to mingle with old friends and make new ones. A $5 contribution is requested at the door which goes to the organization chosen for the month.
As always, come join us at our next breakfast, we'll save you a seat.
If you would like to attend the breakfast, it's the last Friday of every month*. If you would like your organization to be a recipient for the breakfast, all you have to do is submit a request on your organization's letterhead. Send it to Tracey LauLetta at traceyl@tachipalace.com or fax it to 559-924-7526. You can also mail it to Tracey, care of the Tachi Palace Hotel Casino at 17225 Jersey Ave, Lemoore CA 93245. Donation requests can be sent to Kristi Vaughn at kvaughn@tachipalace.com.