January 2017 TACHI PALACE SUPPORTED MANY LOCAL CAUSES WITH CONTRIBUTIONS IN 2016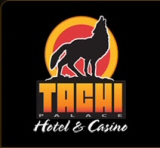 LEMOORE, CA – Over the course of each year, Tachi Palace Casino Resort donates to many charities and sponsors a number of events. During 2016 we were pleased to continue that tradition of giving to wonderful organizations in the Central Valley that seek to improve our local community. Tachi Palace is proud to have played a role in supporting some of the valley's worthiest causes.
An ongoing effort to support the work of local organizations is our monthly community breakfast. This event is held on the last Friday of every month, except during the months of November and December when breakfasts are held on the Fridays prior to Thanksgiving and Christmas. Members of the community come together to support a cause that has been selected for the month. Over the course of the last year, the recipient organizations have included the Lemoore Aviator Memorial Association, Project Linus, the Down Syndrome Association of Central California, Relay for Life Lemoore Chapter, Kings County Special Olympics, Visalia Emergency Aid Council, AMVETS, Central Union School District, Salvation Army of Kings County, Toys for Tots, and Valley Animal Haven. Tachi Palace is proud to have matched over $26,000 in fundraising at the community breakfasts alone, bringing the total contributions to these organizations to over $50,000 in 2016.
Through Tachi Palace's donation and sponsorship efforts, we have also contributed nearly $240,000 to local organizations such as youth sports teams in basketball, soccer, baseball, softball, and golf, as well as local racers, race tracks, and a community BMX course. We have also been proud to support local scholarships, high school sober graduation events, animal shelters, multicultural festivals, county fairs, Valley Children's Hospital, Pulmonary Hypertension Association, VFW, American Red Cross relief with California wildfires, and many more in an effort to help our Valley partners.
Tachi Palace takes great pride in supporting so many valuable causes, and we feel honored to be able to give back to this wonderful community.
The Tachi Palace Casino Resort is owned and operated by Tachi-Yokut Tribe. Tachi Palace is located in Lemoore, CA, on the Santa Rosa Rancheria. Tachi offers the finest gaming action with slots, bingo, and various table games. They also have three dining options and host national entertainment. The hotel features 255 luxurious rooms and suites. Bookings for weddings, special occasions and business functions are also available. www.tachipalace.com for up to date information on all our events. Follow us on Twitter and like us on Facebook.