HOTEL RENOVATIONS UNDERWAY AT TACHI PALACE CASINO RESORT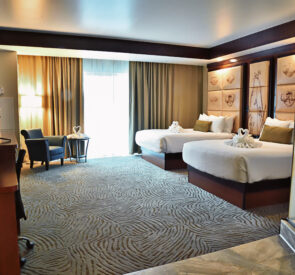 LEMOORE, CA – (November 16, 2021) – The Tachi-Yokut Tribe is pleased to announce that the Tachi Palace Casino Resort has completed the first phase of its hotel room renovation project. When completed, all 255 guest rooms will be remodeled and upgraded.
The first phase of the renovations will be open to the public starting this Friday, November 19th.
The rooms were thoughtfully styled with a Native American theme, and The Tachi-Yokut Tribe basket weave designs are featured on all the headboards in each room.
Guests will appreciate all the innovative enhancements that have been made, including flat screen TV's and additional USB charging ports throughout the rooms. Special privacy switchable glass has been installed which allows for guests to see inside the bathroom when turned off and switched to a frosted appearance when turned on.
Other enrichments include completely redesigned bathrooms with walk-in showers, new bathroom and entry way floor tiles, new sinks, and Kohler shower kits and faucets. All the carpet has been replaced in the main living areas and new tiles have been added in the entry ways.
"We are very proud of all of the renovations that we have done, and we are excited for our guests to see the new rooms," said Michael Olujic, General Manager of Tachi Palace Casino Resort. "It was important to us that the design in the rooms honor the Tachi-Yokut Tribe and Native American cultures and heritage."  
The hotel room remodel is just one of many projects at Tachi Palace Casino Resort. Earlier this year they unveiled a renovated Coyote Entertainment Center. The Yokut Gas Station is undergoing a renovation with new pumps, additional slot machines, expansion of the convenience store and additional restrooms with showers. The casino is also adding a new 30,000 square-foot Yokut Hall for Bingo and events. Yokut Hall is slated to open later this winter.
For more information about Tachi Palace Casino Resort and employment opportunities, visit tachipalace.com or call (800) 942-6886.