February 2018 TACHI PALACE COMMUNITY BREAKFAST BENEFITS UNITED HEALTH CENTERS FOUNDATION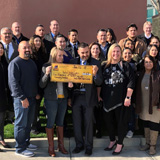 LEMOORE, CA – (February 6, 2018) – Tachi Palace Casino Resort recently hosted its January community breakfast and presented a check for $5,290.50 to United Health Centers (UHC) Foundation, a private non-profit organization providing resources in support of community programs that extend beyond the scope of primary healthcare services in the Central Valley's underserved communities.
More than 500 people attended the fundraising breakfast. A total of $2,645.25 was raised at the door and Tachi Palace Casino Resort and the Santa Rosa Rancheria Tribe matched the amount bringing the grand total of the donation to $5,290.50. Tachi Palace General Manager Willie Barrios was on hand to present the check to Pedro Santana, Development Manager of United Health Centers Foundation
"This money will go towards programs that support the well-being of the youth and families that live in our Central Valley communities," said Santana. "This past year, in collaboration with the YMCA, we sponsored summer camp enrollment for nearly 100 students who otherwise might not have had the opportunity to attend."
Two additional programs supported by the UHC Foundation include the collection and distribution of pristine prom dresses and other prom treasures to more than 200 high school students who would normally be unable to obtain formal prom attire, and the expansion of the Patient Transportation Program that provides rides for UHC patients to and from their health center appointments.
The next community breakfast will be held on Friday, February 23, and will benefit Kings Country Commission of Aging Council. Tachi Palace hosts a monthly community breakfast that features a breakfast buffet, informative community news and business networking, as well as raffle prizes. Attendees are encouraged to make a minimum donation of $5 to attend the breakfast. All contributions benefit a featured organization. For more information, visit tachipalace.com.
About United Health Center Foundation
United Health Center Foundation is an organization that's committed to lifetime wellness by providing accessible, comprehensive quality health care to everyone. Most of the health centers offer: general and family medicine, pediatrics, general dentistry, pharmacy, clinical laboratory, x-ray, dermatology, telemedicine, integrated behavioral health, chiropractic care, optometry and preventative medicine programs. The foundation is committed in doing everything they can for their patients. For additional information, visit www.unitedhealthcenters.org.
The Tachi Palace Casino Resort is owned and operated by Tachi-Yokut Tribe. Tachi Palace is located in Lemoore, CA, on the Santa Rosa Rancheria. Tachi offers the finest gaming action with slots, bingo, and various table games. They also have three dining options and host national entertainment. The hotel features 255 luxurious rooms and suites. Bookings for weddings, special occasions and business functions are also available. www.tachipalace.com for up to date information on all our events. Follow us on Twitter and like us on Facebook.