April 2016 TACHI PALACE PROUDLY SUPPORTS LEMOORE RELAY FOR LIFE WITH LARGE DONATION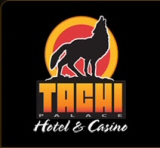 LEMOORE, CA – One of the most cherished annual traditions at Tachi Palace Casino Resort is fundraising efforts in support of Lemoore Relay for Life. Tachi Palace associates are proud to partner with this outstanding organization year after year in the fight against cancer. Tachi Palace has worked with Lemoore Relay for Life since 2004, and in fact, it was a Tachi Palace associate who organized the first event that year!
This year the efforts of over 1,500 Tachi Palace associates resulted in one of the largest contributions to date. Lemoore's Relay for Life event took place April 30th and May 1st, and Tachi Palace was proud to make a contribution of over $70,000 which was more than half of the $120,000 raised in the local area for this year's event.
Tachi Palace kicks off its annual fundraising efforts around Valentine's Day each year. This year's contribution includes approximately $10,000 in Bingo fundraising, a $5,000 sponsorship from Tachi Palace, $7,500 from Santa Rose Rancheria plus another matching $7,500 from the Tribal Council, and most significant of all, an impressive $35,000 in direct contributions and fundraising initiatives from Tachi Palace associates. Through a combination of all of these efforts, the Tachi Palace campaign to support Lemoore Relay for Life continues to succeed and grow each year.
The final fundraising effort for this year's Relay for Life was Tachi's monthly community breakfast which was held on Friday, April 29. Nearly 500 members of the community came out to cap off fundraising for Relay for Life in a big way. A total of $2,527 was raised at the door which Tachi Palace was pleased to match for a grand total of $5,054 raised at the breakfast. General Manager Willie Barrios along with representatives from the Santa Rosa Rancheria Tribe were in attendance and proudly presented a check to Maria Aguilar and Craig Standridge from Lemoore Relay for Life.
Tachi Palace is already looking ahead to next year's fundraising campaign and is setting a goal to raise even more in 2017. Associates are generously signing up to have weekly deductions ranging from $1-$10 held from their paychecks as a show of their commitment to this extraordinarily important cause and the local fight against cancer.
The Tachi Palace Casino Resort is owned and operated by Tachi-Yokut Tribe. Tachi Palace is located in Lemoore, CA, on the Santa Rosa Rancheria. Tachi offers the finest gaming action with slots, bingo, and various table games. They also have three dining options and host national entertainment. The hotel features 255 luxurious rooms and suites. Bookings for weddings, special occasions and business functions are also available. www.tachipalace.com for up to date information on all our events. Follow us on Twitter and like us on Facebook.