2013 WSOP Qualifier #1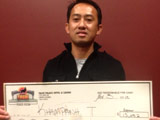 Khampanh T. from Fresno, California wins $10,000 seat into WSOP Main Event!
On November 3rd, 2012 at 11:15am, the Tachi Palace Casino Resort kicked off their annual series of World Series of Poker satellites. This is the 11th consecutive year that Tachi has sent players to Las Vegas to compete in the richest sporting event in the world.
Our first member of the 2013 WSOP "Team Tachi" is Khampanh Thepphavong from Fresno, California. Khampanh found himself crippled shortly after the final table began when his pocket QUEENS ran into pocket ACES. However, he managed to double up and get back in the game. Khmapanh found himself the chip leader as 3 remained. It didn't take long to get heads up and was over shortly thereafter when he bet 40,000 on a king high flush draw. His opponent shoved for more than 80,000 with the top pair of QUEENS. Khampanh called, turn spiked a KING, and the tournament was over.
Khampanh won a $10,000 seat into the 2013 WSOP Main Event, $2,000 in travel money and $1,452 in immediate cash winnings! All for a $225 buy-in!
Do you want to be next? The next event is December 1st and sign-ups are available in the poker room during all operational hours. These events sell out and it is highly recommended that you register in advance. Call 559-925-5854 for more details.