2012 WSOP Qualifier #3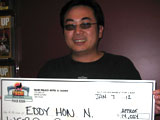 Eddy N. from Oakland, CA wins $10,000 seat into WSOP Main Event!
Another successful WSOP satellite is in the books at the Tachi Palace Casino Resort! On Saturday, January 7th the 11:15am tournament was filled to capacity with 100 players by 10am. 6 alternates gained entry through the first hour for a total of 106 players.
Eddy N. from Oakland, CA. beat out the other 105 runners, including 2007 WSOP World Champion, Jerry Yang. Eddy won a $10,000 seat into the 2012 WSOP Main Event, $2,000 for travel expenses, and $2,024 in immediate cash winnings! Quite a nice little score for a $225 buy-in!
These events go down the 1st Saturday of every month at 11:15am. Pre-registration is highly recommended and is available in the poker room during all hours of operation. Call us at 559-925-5854 or surf for complete details. This event features a great structure. Nobody gives you better value for your tournament dollar!
2nd through 10th cashed as follows:
2nd Place: Eliseu C cashed for $1,288
3rd Place: Francis V cashed for $1,104
4th Place: Robert Y cashed for $1,012
5th Place: Daniel V cashed for $920
6th Place: Xay X cashed for $828
7th Place: Mario S cashed for $828
8th Place: Mark V cashed for $552
9th Place: Todd C cashed for $460
10th Place: James C cashed for $368